Hex Games Releases GILGAMESH!: The Lost Tablets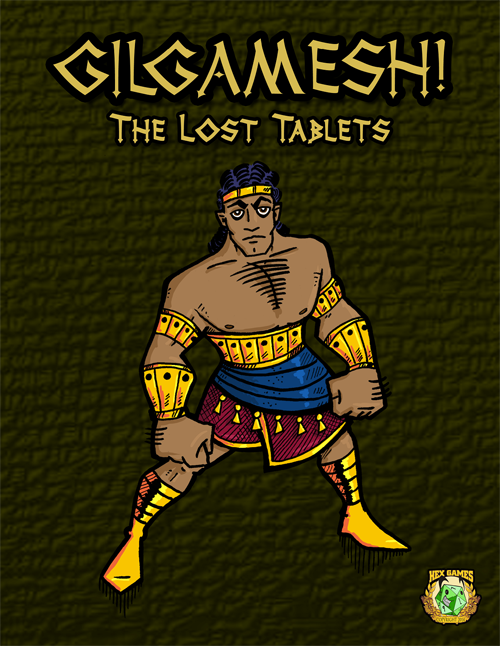 Hex Games has just released GILGAMESH!: The Lost Tablets, a companion to the 2012 release GILGAMESH!, an epic adventure based on the world's oldest epic.
If you've played the game GILGAMESH!, you know the story of the legendary Gilgamesh's quest to find the secret of immortality, and his epic journey past the ends of the world and into the realm of the gods. But now, for the first time, you can learn how Gilgamesh befriended the wild man Enkidu. Watch as Gilgamesh and Enkidu venture into the Forest of Cedar to battle Humbaba, the most horrible monster in the world! See Gilgamesh and Enkidu defend their city from the Bull of Heaven, and witness the punishment the gods rain down on them!   
GILGAMESH!: The Lost Tablets is a supplement to the adventure GILGAMESH!, which is designed for use with the QAGS Second Edition rules. The Lost Tablets gives GMs the tools they need to incorporate additional scenes into the adventure, to run a prequel game, or even to create an ongoing campaign. It includes a summary of the first eight tablets of The Epic of Gilgamesh, GM Notes for each tablet, and game stats for Enkidu, Ishtar, Humbaba, and more.
GILGAMESH!: The Lost Tablets–as well as the QAGS rulebook, GILGAMESH!, The Hobomancer Companion, and more--can be purchased in PDF form at www.hexgames.com or at other fine online vendors for just 99 cents.
The QAGS Qik Start Rules are available for download at www.hexgames.com, absolutely free.
GILGAMESH!: The Lost Tablets is written by Leighton (Beowulf Vs. Grendel) Connor and illustrated by Joshua (Bernie the Flumph) Burnett.