Conventions

Since Hex does not distribute its products through the traditional channels, we rely heavily on conventions to introduce our games to new players. While our small size prevents us from attending as many conventions as we'd like, we do try to help convention organizers and game masters whenever possible. When you contact convention support,please provide the following information about your convention:
Conventions Dates
Location
Web Site/Contact Information
Previous Year's Attendance (if this is the first year, give us your best attendance estimate)
Information about guests, themes, special events, etc.
Information about any Hex-related games or events already scheduled.
Events
As we said in the intro, we simply don't have the resources to attend every convention that offers an invitation. However, we are always willing to consider new venues, especially conventions that are reasonably nearby.  Even if we can't make the trip, there may be members of our demo team who can run games or moderate panels. If you'd like to have Hex events at your convention, we'll need the following information (in addition to the basic information listed above):
Contact information for the gaming director
Information about scheduling (for example, if you use block scheduling, we'll need to know the block times).
If you provide complimentary badges for game masters, please include all pertinent information.
Prize Support
Convention organizers looking for prize support should provide us with the following information (in addition to basic convention details):
Shipping address for prize support.
Information on how the prizes will be awarded or used (charity auction, door prizes, prizes for games, etc.)
Information on any special incentives or advertising for companies who provide prize support.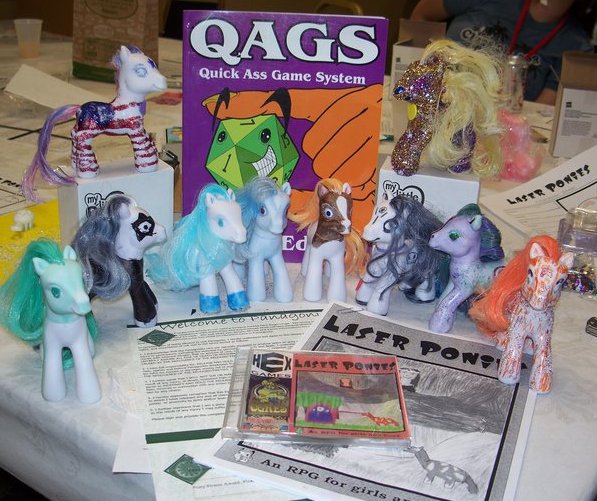 If you're an individual game master seeking prize support, please provide the following information:
Name of convention/store where you're running the game.
Dates of convention.
Name and description of game.
Link to a listing of the game on the convention or store web site. If such a link is not available, provide us with contact information for the convention's gaming director or the store manager (so we can confirm you're really signed up to run the demo).
Shipping address for prize support.
Advertising
If your convention provides advertising opportunities (for example, in its program), we may be interested in buying some space. In addition to basic convention information, let us know your advertising rates. If the con is willing to trade advertising for prize support, please include that information as well.

If your convention has a banner ad, we will run it on our web sites free of charge. Please contact the webmaster for information.