Captain Condom
From HexWiki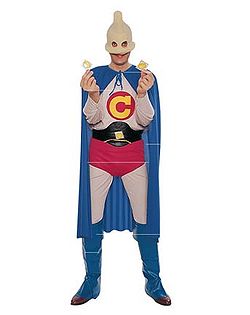 Captain Condom (Dr. Robert "Bob" Bones)

BODY
17 (09)
BRAIN
14 (10)
NERVE
16 (11)
Health Points
17
Yum Yums
01

Jobs
High School Counselor (10)

Flying Evangelist (14)

Gimmicks
Safe Sex (10)

Summon Condoms (13)

Weaknesses
Unpopular (14)

Never Around When Needed (13)

Other Game Information
Member of the Hall of Cosmonauts.

Skills
Public Speaking +5
Tag Line
Safe Sex is the Best Sex
WWPHITM?
Dumb Fact
Virgin, Nicknamed the Hero in a Half Shell
Tom Welling
Notes
Captain Condom has a rogue's gallery of villains, including but not limited to: Lady Latex, Gold Digger, The Nonoxynol Nine, Bearback and Cub Scout, The Pillferer, Venus Butterfly and Spanish Fly (when on international missions). He also has an opposite bizarre clone and Nazi known as Kreisleiter Kondom. However, none of these compare to his arch-nemesis Admiral Abstinence (who has a sidekick: Private Pledge).